Top Sellers Pack- 3 Chocolate & 3 Maple Pack
Wake Up Foods
3 bags of Chocolate & 3 bags of Maple
The world's only plant-based, high-nutrient, gluten-free, vegan, dairy-free all-day energy. Ready to eat and packed with energy. We promise you'll love these waffles. Try our two hottest sellers in one great package.
Chocolate: Water, Whole Grain Oats, Date Powder, Extra Virgin Olive Oil, Cocoa Powder, Golden Flaxseed, Chocolate Chips (cane sugar, unsweetened chocolate, cocoa butter), Chia Flour, Natural Vanilla Flavor, Salt, Sunflower Lecithin, Cinnamon. 
Maple: Water, Whole Grain Oats, Extra Virgin Olive Oil, Golden Flaxseed, Pure Maple Sugar, Chia Flour, Natural Maple Flaor, Sunflower Lecithin, Salt.
Once You Fall In Love With Wake Up Waffle…
You'll Never Have to Think Again When Shopping for Breakfast Foods...Ever Again!
100% Plant Based

Energy Packed Fuel

ZERO Sugar Crashes

Low Calorie - High Nutrient

100% Omega-3 RDA

3G of Fiber

Plant Protein
Gluten Free

Tree Nut Free

Peanut Free

Soy Free

Wheat Free

Dairy Free
Once You Try These Waffles, Nothing Else Will Ever Stack Up
Protein
Net Carbs
Gluten Free
Nut Free
Dairy, Egg &
Soy Free
# of ingredients
3g
12g
8-10
4g
28g
16+
2g
34g
14+
1g
34g
16+
See Why People Are Raving About These Waffles
Customer Reviews
Write a Review
Ask a Question
03/05/2020
Sarah
United States
These waffles are CRAZY GOOD!
Our family is in love with these waffles!! They seriously taste SO good. More important, they are nut-free which is HUGE for this allergy family. I absolutely love knowing my kids can have a safe and healthy breakfast before going off to school for the day...and they also make the perfect after school snack!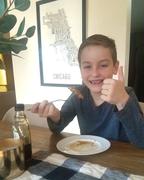 12/13/2020
Lisa G.
United States
Y U M
Absolutely delicious! We toast on the darker setting for a crunchier waffle. The waffles taste yummy by themselves or with maple syrup or plain vegan butter or with peanut butter or with cinnamon and honey. Full flavor. No cardboard texture. Our entire family loves them and we have all sorts of diets in our household. Thank you!!!
12/12/2020
Brenda H.
United States
Lovin Healthy Waffles
Chocolate is our favorite! Couldn't believe how tasty they are. Love the maple and had plain waffles on first order and enjoy both! Will keep ordering!
12/07/2020
Jen E.
United States
Guilt free love!
These waffles are amazing. Our whole family loves them!
12/05/2020
Jennifer C.
United States
Maple Deliciousness
These smell and taste great. Good for the whole family.
100% "You Just Can't Have One!" Guarantee!
"If you aren't absolutely blown away... and obsessed for wanting more, then it's free!"
Founder | Father Of Seven