CLASSIC: BUY 2 GET 1 FREE
16 WAFFLES PER PACK (3 PACKS)
Your favorite classic waffles re-imagined. Perfectly plant-based balanced with protein, fiber, and healthy fats. No refined sugars, gluten-free, vegan, soy-free, nut-free & dairy-free. Ready to eat and packed with energy. We promise you'll love these waffles.
INGREDIENTS: Water, Oats, Flax Seed, Date Powder, Extra Virgin Olive Oil, Chia Seed, Vanilla Extract, Himalayan Sea Salt, Cinnamon
Once You Fall In Love With Wake Up Waffle…
You'll Never Have to Think Again When Shopping for Breakfast Foods...Ever Again!
100% Plant Based

Energy Packed Fuel

ZERO Sugar Crashes

Low Calorie - High Nutrient

100% Omega-3 RDA

5G of Fiber

Plant Protein
Gluten Free

Tree Nut Free

Peanut Free

Soy Free

Wheat Free

Dairy Free
Once You Try These Waffles, Nothing Else Will Ever Stack Up
Protein
Net Carbs
Gluten Free
Nut Free
Dairy, Egg &
Soy Free
# of ingredients
5.5g
21g
8-10
4g
28g
16+
2g
34g
14+
1g
34g
16+
12g
29g
16+
See Why People Are Raving About These Waffles
Customer Reviews
Write a Review
Ask a Question
03/05/2020
Sarah
United States
These waffles are CRAZY GOOD!
Our family is in love with these waffles!! They seriously taste SO good. More important, they are nut-free which is HUGE for this allergy family. I absolutely love knowing my kids can have a safe and healthy breakfast before going off to school for the day...and they also make the perfect after school snack!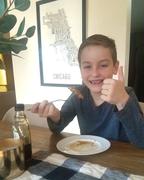 07/06/2020
Jenni H.
United States
Yummy & simple prep with healthy ingredients.
Delicious! Love the simple, whole grain ingredients. Yet still allergy friendly. Easy to pop in & warm in the toaster too.
07/03/2020
Rhonda E.
United States
Waffle review
The waffles are delicious. Will definitely reorder!
06/08/2020
Bridget K.
United States
Yummmmmmm
We are enjoying them with breakfast instead of toast. Yum! Have tried all 3 flavors and we like them all! Yummmm!
06/07/2020
Karen S.
United States
Amazing!!!
I absolutely LOVE these waffles. It's so rare to find a product that uses only extra-****** olive oil. And sweetened with only date and maple sugars. I'm so impressed. Exactly how I would make them from scratch but so much more convenient. Would give them 10 stars if I could!
100% "You Just Can't Have One!" Guarantee!
"If you aren't absolutely blown away... and obsessed for wanting more, then it's free!"
Founder | Father Of Seven